Group Discussion of our Fonts (Row 2): October 20, 2010
Tramaine: My font, Blackadder, is a serif font that looks like it would be used in a love letter in a Charlotte Bronte novel. The font has overtones of "tragic love" or death.
Daniel: My font, Chiller, evokes pathos, specifically a feeling of fear or terror. This sans-serif font would be used during the Halloween season on advertisements or in scary movies.
Solomon: My font, Trajan Pro (Bold), evokes ethos. Trajan Pro, a formal, all-caps, serif font could be used as a heading in a formal document or in a logo of a prestigious corporation.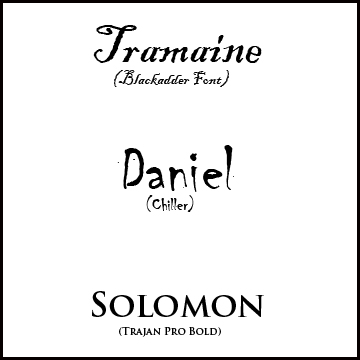 Tramaine's Webpage | Daniel's Webpage | Solomon's Webpage